Order the Book

Payment Methods

Order is Confirmed
Get Maurizio Porta's

book "Machining Centers"

now and find out how the

old business model

based on the Cnc Machining Centers in battery

is STEALING you productivity and competitiveness

!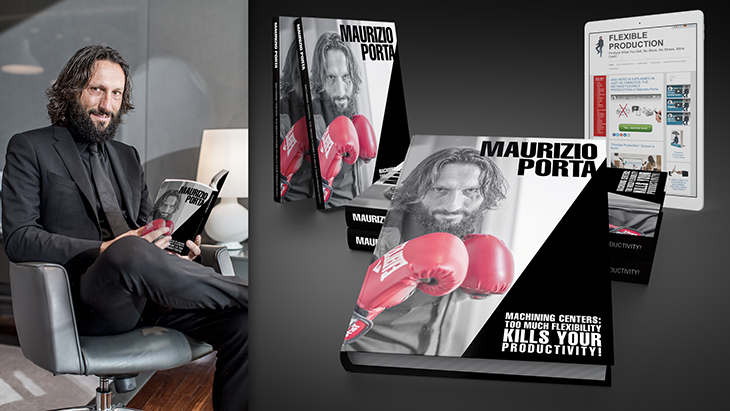 Yes, I want the book "Machining Centers" for only 28 €
(Available in 3 languages)
Do you use Cnc Machining Centers?
That's why you absolutely have to read this book!
Since 2005 I have been studying new methods to make the production departments of my customers more competitive and to help all those who use machine tools to better face the new market challenges.
Every month, together with my team, we fine-tune the way we deal with production problems of companies in various sectors.
And today I can truly say that we have taken giant steps!
So I decided to develop a tailor-made methodology for users of machine tools and I called it "Flexible Production Method".
I divided this methodology in various steps that can bring the production departments of companies to a real success.
I have been working in the machine tool sector for over 20 years, and have been helping my customers to implement this methodology in the company for more than 10 years and I have noticed something truly exceptional.
In essence, I have been able to see, with numbers in hand, that the Flexible Production method has an even more extraordinary application on those who use CNC machining centers.
In fact, if at the beginning I was convinced that this method was more suitable for those who use Transfer machines, then thanks to an "enlightened" customer of mine who uses machining centers (and who understood the true potential of this technology) I got to test the method also on his company.
Yes, I want the book "Machining Centers" for only 28 €
(Available in 3 languages)
Who uses Machining Centers has to mainly deal with these 3 macro problems
Space management
Research and costs of specialized personnel
Energy costs
In fact, if you continue to add machine tools to your production department, you have no more space to invest in other important activities for your company, because precisely what you had available you have used it all for new machining centers.
Each machining center is equivalent to 1 robot to be managed, more robots means more specialized personnel needed to manage them, more specialized staff is equal to fixed costs that go to the stars.
Without mentioning that today finding specialized personnel to be included in production becomes increasingly difficult and increasingly expensive (specialized technicians are rare and expensive).
Finally, having many machining centers is also synonymous of MANY energy costs, given that each machine has 1 robot in operation and taking into account that energy costs are increasing year after year, in an increasingly aggressive manner.
How do you stay competitive if you continue to face market challenges with this approach?
The old business model based on the machining centers in battery has a big problem…
…makes you flexible, but it does NOT make you productive!
Today you have the opportunity to take advantage of my know-how and have access to technology, consisting of strategies and techniques, which is helping users of CNC Machining Centers to become more productive and competitive.
Strategies and techniques that will also help you understand how to make your production a success.
In fact I decided to write a specific book just for those like you using CNC Machining Centers.
In this way you will be able to see how the "Flexible Production" method is bringing extraordinary results to many companies similar to yours.
And you will see, chapter by chapter, how to deal with every single problem in production and how to become up to 4 times more productive and competitive, without having many machining centers in the department.
The basic concept is
I DO NOT want direct personnel in production
I DO NOT want a multitude of robots, difficult to manage and expensive
I DO NOT want to increase my "fixed costs"
I WANT to get the correct "Automation-Productivity" ratio
I WANT to be more productive, while remaining flexible
I WANT to have less fixed costs and more liquidity for the company
The key to success in production departments today lies behind this concept and behind the correct ratio between "Automation-Productivity", which will help you generate more cash and cash.
Cash that you can then reinvest in the company, to bypass the competition in your industry and become the reference point for customers.
A method therefore based on NUMBERS.
Yes, I want the book "Machining Centers" for only 28 €
(Available in 3 languages)
What you will discover by reading this Book
How to quadruple your productivity and finally become more competitive, without sacrificing your flexibility in production
How to save space in your production department, to optimize it and invest it in other more productive activities for your company
How to cut the costs of skilled personnel and produce more, even if up to now you have used Cnc Machining Centers in battery
How to reduce energy costs and then be able to marginalize more to have more cash to be reinvested for your business
And so on…
#Bonus – "Case History"
Inside the book you will find real cases of entrepreneurs and production managers who, like you, have decided to change their production and that they have finally managed to get out of the price war to make their production a success.
You can then check with your hand and really how companies using machine tools have been able to benefit exponentially from the Flexible Production Method.
About the author…
Maurizio Porta is an entrepreneur who has been working in the machine tool sector and production departments for over 20 years.
An internationally successful divulger of competitive production methods and processes to face new market challenges for companies in the manufacturing sector, he is the creator of the "Flexible Production" method, of which he is also the Master Trainer.
He has studied and developed a new business model to help companies produce only sales, without stocking and which allows companies to reduce energy and personal costs and thus have more money on the current account.
Yes, I want the book "Machining Centers" for only 28 €
(Available in 3 languages)
WARNING!

What you will discover when reading this book goes totally against the current version of any existing production manual on the market and compared to the classic concepts of "Production" up to now known. If you are a person who wants to continue managing your production department and your company with old business models and with the old mentality, I suggest you CLOSE this page.
If on the contrary you are a brave and resourceful person and you really want to understand how to get out of the price war and make the leap in quality, to face the opportunities that the production market can offer you today, then click on the button here under and

get immediately your "Machining Centers" Book.
Yes, I want the book "Machining Centers" for only 28 €
(Available in 3 languages)